In my last entry I explained I like making comic book soundtracks. Here's my favorites of the ones I've made. I'm a bit of an industrial/underground fan so you'll notice bands you might not know. Or the repeat of some of my fav bands.
First up, the first one I made and my favorite. Which, incidentally, lead me to make several others to follow through(including one to a comic I wasn't too into after the first half) but I stopped right after a certain point. The point was after 52. I guess I can post them all.
Identity Crisis
I like the book less now then at the time, but still enjoy it. I broke it up by chapters, which I tend to do sometimes. This was my first comic book soundtrack and still one of my favorites.
Chapter 1: Coffin
I Belong to You-Lenny Kravitz
Sweet Child-PIG
My Machine-The Shizit
Chapter 2: House of Lies
Sex Type Thing-Stone Temple Pilots
These Remains-My Life with the Thrill Kill Kult
Chapter 3: Serial Killer
Neckbone-Powerman 5000
Did My Time-KoRn
Deep Red-Apoptygma Berzerk
Chapter 4: Who Benefits?
Fear-Lucia
Have I Got a Deal For You-Abby Travis
Chapter 5: Fathers Day
Something About Us-Daft Punk
The Day the World Went Away(Still Version)-Nine Inch Nails
Chapter 6: Husbands & Wives
Invincible-Static X
Backwards-Apt. 26
Chapter 7: The Hero's Life
Happy House-Siouxsie & the Banshees
Deja Vu-Dog Fashion Disco
The Future-Prince(which is from the Batman soundtrack! Even opens with Michael Keaton.)
Countdown(to IC) Soundtrack
My second comic book mix, and decided on it about half way through the minis. Fav was Villains United and Day of Vengeance with Raan/Thanagar War as the least. Plus the "prelude" special represented.
Prelude: Death of Ted Kord
To Belong, My New Uniform-Bile
Boulevard of Broken Dreams-Green Day
The Man Comes Around-Johnny Cash
Day of Vengeance
Blades-PIG(my fav band, btw)
Return of the Phantom Stranger-Rob Zombie
Retro-Human-SMP(Sounds of Mass Production)
Omac Project/Sacrifice
R U Okay?-KMFDM
Bullet with Butterfly Wings-Smashing Pumpkins
Place For My Head-Linkin Park
Honest Mistake-Bravery
Raan-Thanagar War/Return of Donna Troy
Big White World-Marilyn Manson
Spacelord-Monster Magnet
When Worlds Collide-Powerman 5000
The Hunter-Bjork
Villains United
Shove-Ministry
Hit Back-Hate Dept.
Commencement-Deadsy
Infinite Crisis
I like the CD better then the comic.
Chapter 1: Crisis
Mad Dialects-Damage Manual
Only One-Slipknot
Fight Song-Marilyn Manson
Chapter 2: Survivors
What You become-Lucia
Not Meant For Me-Wayne Static from Queen of the Damned
Chapter 3: Divine Intervention
Clean-Sister Machine Gun
Hidden Agenda-Pitchshifter
Chapter 4: Homecoming
Headless-Dog Fashion Disco
Let the Planets Burn-Hanyzl Und Greytl
Beside You In Time-Nine Inch Nails
Chapter 5: Faith
I Against I-Mos Def & Massive Attack
Multiverse-Voivod
Chapter 6: Touchdown
Satellite-Pigface
Died In Your Arms Tonight-Corey hart
Chapter 7: Finale
Wake Up-Powerman 5000(advice, making superhero comic soundtracks, this band for some reason has appropriate jams)
Whatever-Our Lady Peace
The First Time-Finger 11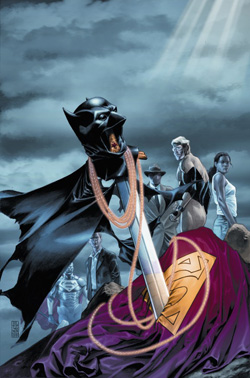 52
Next is a three disc(gasp!) collection for 52. I did a song per week, sort of. Some weeks I skipped.
Disc 1: Weeks 1-17

Here to Stay-KoRn
Insect-Die warzau
UAIOE-KMFDM
Long Hard Road Out of Hell-Marilyn Manson and the Sneaker Pimps
Start a War-Static X
You Know What You Are-Nine Inch Nails
Whatever-Godsmack
Online-Gnarls Barkley
Heelz Afire-Thrill Kill Kult
Slept So Long-Jay Gordon from Queen of the Damned
Chemical Halo-ChemLab
When You Die, You're Dead-Jimmie's Chicken Shack(irony)
Hotel Yorba-White Stripes
24 Hours-SMP
Disc 2: Weeks 18-34
Rise-From Ghost in the Shell: Stand Alone Complex
White Noise-Sinnistar
Reflecting God-Marilyn Manson
Selling Rebellion-Ayria
Transmutation-MDFMK(no, it's a different band from KMFDM)
The Noose-Offspring
Scarecrow-Ministry
Glass Dance-Faint
Give Me Back My Bullets-Lynard Skynard
Counterfeit-Limp Bizkit(gah! I hate to admit I like thier first album)
Bulls On Parade-Rage Against the Machine
I'mmortal-Skinny Puppy
New Years Day-U2
Disc 3: Weeks 35-52
System-Chester Bennington from Queen...(brooding, gothic rock tracks. They just work.)
Health & Theory-Deadsy
Begin Again-Shinedown
If Only We Could Sleep-The Cure
Snap Your Fingers, Snap Your Neck-Prong
Alone-Sister Machine Gun
The Widow-Mars Volta
Liar-Rollins Band
Nude in the Wilderness-Dog Fashion Disco
Seasons in Abyss-Slayer
Fire Inside-Killswitch Engage
Blow You Away-Pigface
Lets Go To War-Murderdolls
Love Letters Addressed to the Dying-Amphbious Assault(chances of finding this song, slim to none)
Monster-The Automatic
Goota Knock A Little Louder-From Cowboy Bebop
New X-Men
My second fav X-Men run, easier to make a mix cd to then the Claremont stuff I loved but that was like damn long. Reread the run and tried to have the flow work with the actual beats of the series. Thats why I open with God Sends Death by Slayer.
God Sends Death-Slayer
Rabblerouser-MDFMK
Chemicals-Bush
Badlife-Thrill Kill Kult(second fav band, btw.)
Blitzkrieg-Excessive Force
Red-Sister Machine Gun
Secrets-Alicia Keys
Theme to a Fake Revolution-Powerman 5000(damn this band)
On the Bound-Fiona Apple
Veteran of the Psychic Wars-Blue Oyster Cult
Dystopia-Apt. 26
Jesus Christ Porno Star-ChemLab(thats one hell of an offensive title isn't it? I don't even think they say that during the song)
Before I'm Dead-Kidney Thieves
Silver Future-Monster Magnet
Lucretia My Reflection-Sisters of Mercy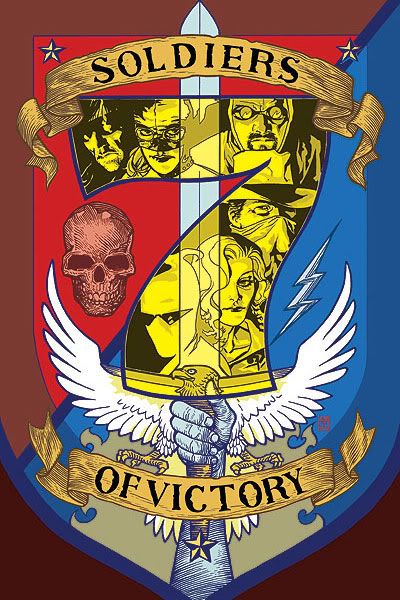 Seven Soldiers of Victory
Let's keep the Grant Morrison kool-aid dirnking session going. I also have a mixtape to his Invisibles series which is good, but not quite great. First disc, three songs per character and two for opening. Second disc four per character and three closing.
Disc 1
Prelude
Blur, the Technicolor-White Zombie
Ice Cold Man-Probot
Shining Knight
Bloodline-Slayer
I'm the One-Static X(good fight music)
Little Rose-Lucia
Manhattan Guardian
Efilade-At the Drive-In
Let's Stay Together-Al Green
Do You Fear(for Your Child?)-Thrill Kill Kult(works in tune with my fav ish of 7S and fav Morrison story of all time, #4 Guardian)
Zatanna
Maybe-NERD
Gothic-London After Midnight
Pantomine-Orgy
Klarion the Witch Boy
The Beautiful Dead-Killing Joke
Burn the Witch-Queens of the Stone Age
Disobedience-Pig Ork(estra)
Disc 2
Mister Miracle
Minds Playing Tricks On me-Geto Boys
Under My Wheels-Alice Cooper
What Do They Know?-Mindless Self Indulgence
Trip Like I Do-Filter & Crystal Method
Bulleteer
Lovers End-Birthday Massacre
Black Bullet-Kidney Thieves
Infiltrating My Way Through the System-Ayria
Crave-Drain STH
Frankenstein
Worm in a Dogs Heart-Dog Fashion Disco
Stray Bullet-KMFDM
Melas Chasm-Bile
Do the Evolution-Pearl Jam
Finale
Phantasmagore-Deadsy
My Plague-Slipknot
How the Gods Kill-Danzig
I also have mixtapes to Avatar Seasons 1-2(which are good), Invisibles, Runaways, Teenagers From Mars and... er... oh, the Vertigo series Losers which is less flow and more action/political. As you can tell I use the same bands a few times and thats because I have lots of albums by those bands. Or their music has just the right "comic book superhero flair" to fit fight scenes or moods. Well, that's it, later.